Return to the Wards' Home Page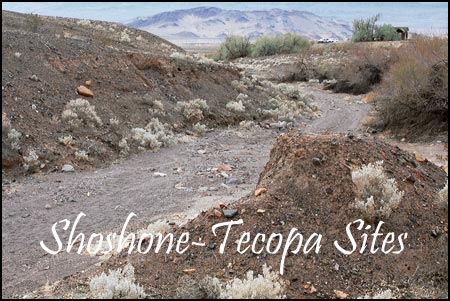 We entered the southern part of Death Valley on State Highway 127 after passing through the community of Baker. Naturally we didn't stay on the paved highway for long. We followed a dirt road until we came to a wide spot suitable for two cars to camp.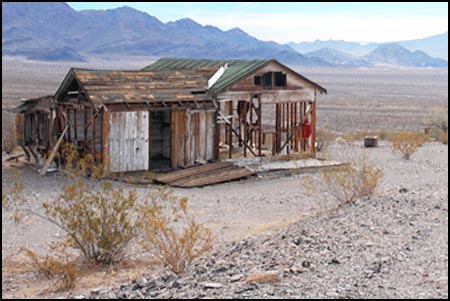 In the morning we visited the forlorn site of an old talc mine at Ibex Springs, with buildings dating from the 1930s. In the 1880s there was an active copper and silver mine here. Before that, gold prospectors mined the area, and before that, native Americans camped nearby with trails leading to the springs. Highway 127 and Ibex Pass are unseen in the distance at the top right side of the photo. We imagined that this building was the mine superintendent's home.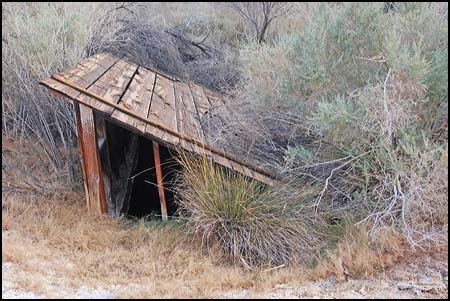 We found spring water under this sheltering roof. Tamarisk and palms trees grow rampantly in the spring area.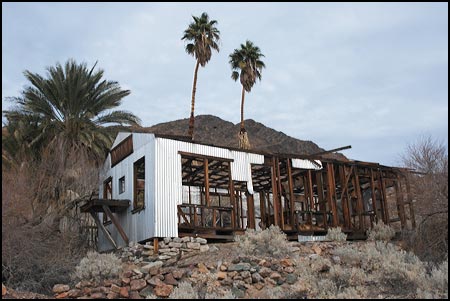 There were several buildings near the springs. This may have been the mine headquarters. Another building looked like a bunkhouse.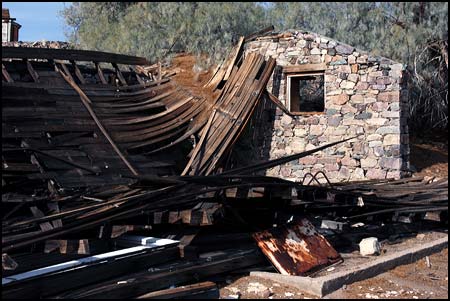 We imagined that this could have been the dining hall.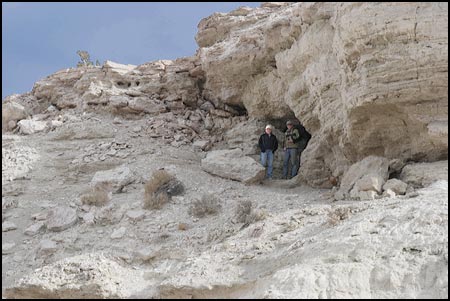 "Castles in the Clay" near the town of Shoshone once provided shelter for unknown inhabitants. Martin and Cassandra climbed high to reach this cave, which was relatively large.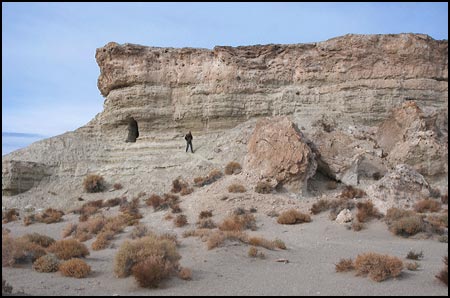 Martin checked out another cave with a view of the Amargosa River valley.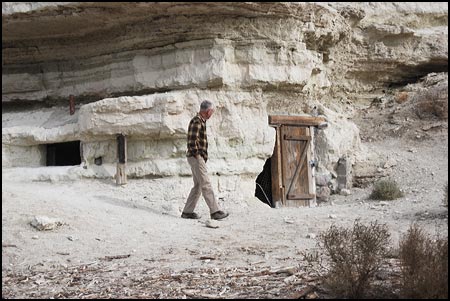 It is said that Chief Tecopa lived in this dwelling. We visited another area near Shoshone called Dublin City, where Irish miners dug out rooms under a tufa cap. Apparently underground shelters were warm in winter and cool in summer. To us, they appeared far from comfortable and definitely not spacious. With showers threatening, we didn't take pictures of Dublin City or at the nearby Shoshone Cemetery, with both old and recent graves.
We drove out a dirt road to Chappo Spring, which was littered with trash, the ruins of a house and some old vehicles. We guessed that hippies may have been the last occupants.
After wandering on a barely perceptible road through sand dunes and water courses, we emerged near the community of Tecopa Hot Springs. There we enjoyed soaking in the hot mineral waters that flow into concrete pools. There are separate men's and women's pools in the small building. We paid a fee, but the baths would have been free if we had stayed in the barren RV campground across the street.
Our week ended with us once again camping at Owl Campground. We left many curious sites unexplored, inviting us to make a return visit to the Mojave Desert.
Return to Mojave Desert Curiosities Home Page
Return to the Wards' Home Page