Return to the Wards' Home Page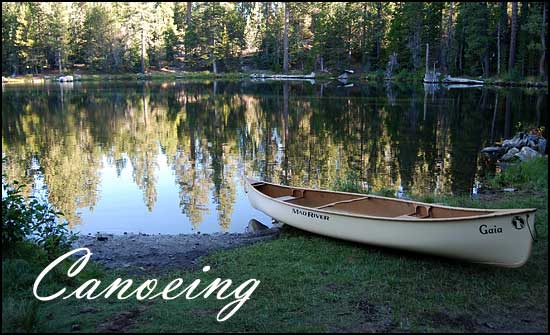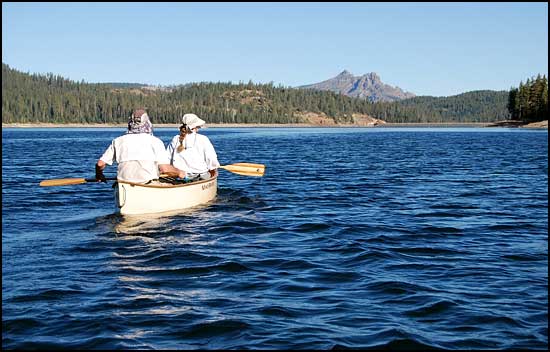 We began our Labor Day weekend by driving north on Highway 49, then east on the Henness Pass Road, which was a popular shipping route to the Nevada mines in the late 1800s. On the way we saw bear tracks meandering along the road for about two miles. Our destination was Jackson Meadows Reservoir. Martin and Cassandra are in the canoe with the Sierra Buttes in the distance.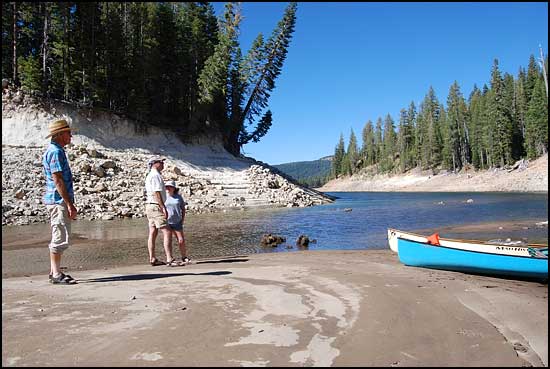 We paddled to the upper end of the reservoir and landed on a sandbar near the inlet, although no water was flowing in this drought year.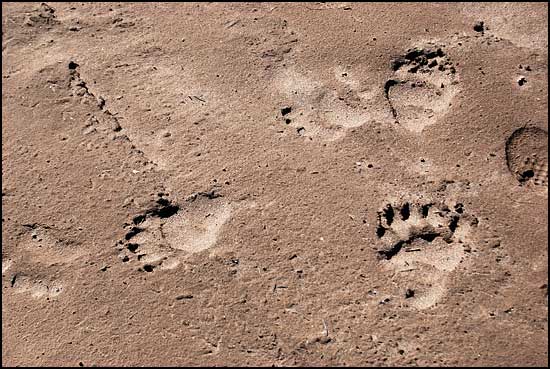 On the sandbar we found tracks from a bear that had come to the lake for a drink of water. The prints were exceptionally sharp, although some dry sand had blown into the depressions.
| | | |
| --- | --- | --- |
| | The wide part of the palm pad (middle pad) is on the outside of the foot, and the smallest toe is on the inside, unlike the human foot with its big toe on the inside. The heel pad of the hind foot is usually visible, while it is usually not seen on the front foot. Toenails are often visible on the front foot. | |
| | | |
| --- | --- | --- |
| | In slow walking, the front foot may land directly on the hind foot track. In a fast walk, the hind foot lands in front of the front foot. A bear walks with its feet slightly turned inward. We didn't know these facts when we were there, so now all we can do is look at these pictures and guess what we are seeing. | |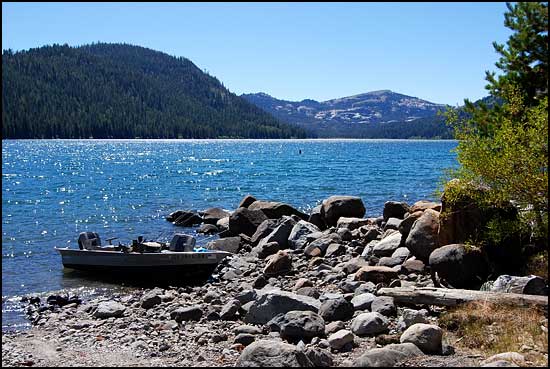 We continued east on the old Henness Pass road and then detoured south to Independence Lake, a private lake open to the public for a low day-use fee. Instead of canoeing on this windy lake, we decided to backtrack west to Sawmill Lake.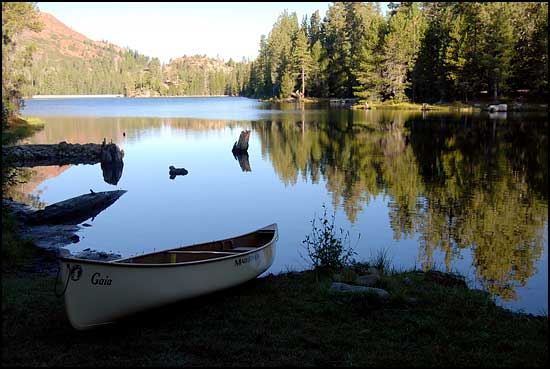 Martin and Cassandra had camped at Sawmill Lake previously, and we were able to occupy the same campsite on a picturesque cove.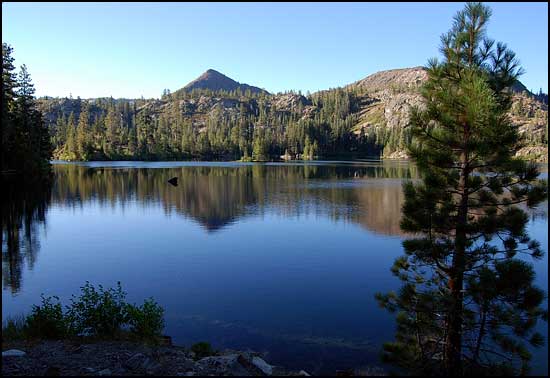 Sawmill Lake has three small islands and several arms to explore. The inlet stream cascades noisily, bringing water from Faucherie Lake. Tall pine trunks still stand upright under water. We watched them as we glided past in our canoe.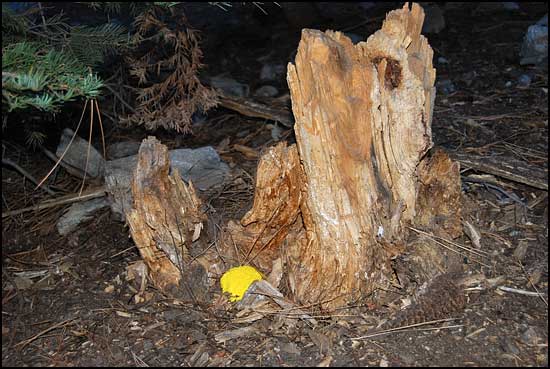 A bright yellow fungus at our campsite intrigued us.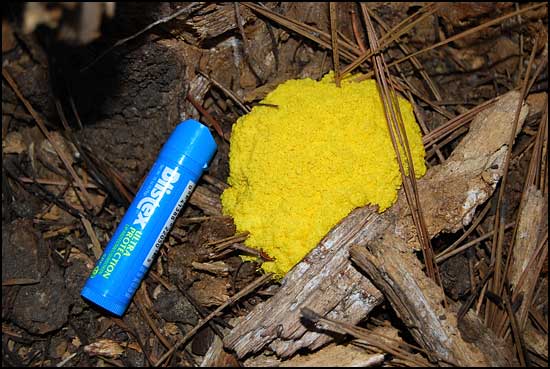 A closer look left us still mystified.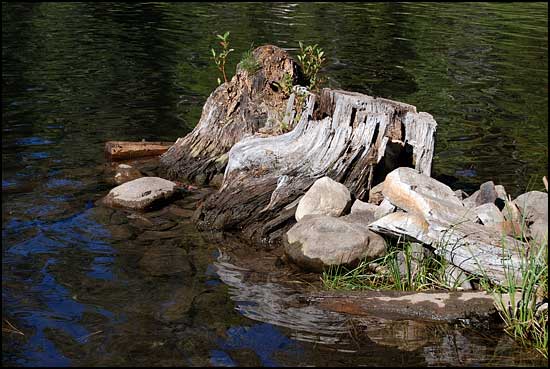 Although the landscapes were inviting, small scenes also showed nature's artistry.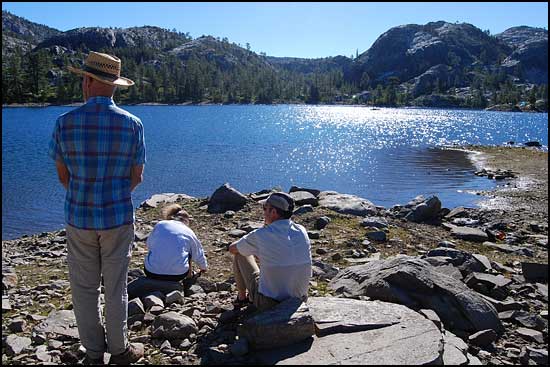 Before returning home, we drove to Faucherie Lake, which nestles among granite domes rising over 7,000 feet high.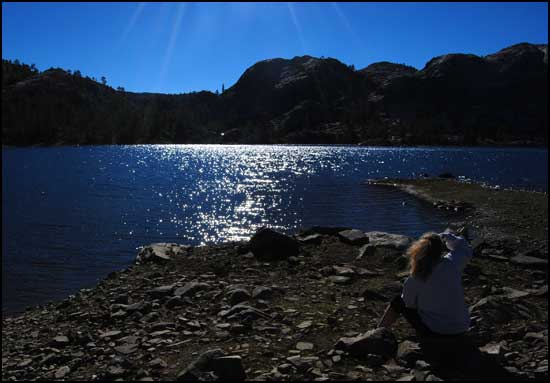 This may be what Faucherie Lake would look like in moonlight. We didn't wait to see, for it was time to return home, well-satisfied with our Labor Day adventures.